Conference on cold regions ice, snow economy opens in Jilin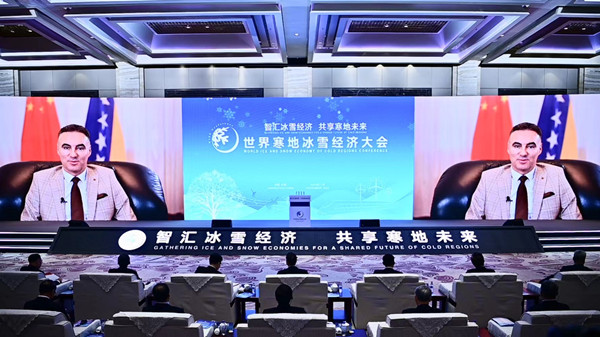 Sinisa Berjan, ambassador of Bosnia and Herzegovina to China, gives a speech through video link. [Photo by Zhao Bo/For gojilin.gov.cn]
The World Ice and Snow Economy of Cold Regions Conference, in conjunction with the High-Level Forum on International Cooperation and Development of the World Ice and Snow Economy, opened in Changchun, capital city of Northeast China's Jilin province, on Nov 17.
The ice and snow economy of cold regions plays a pivotal role as a driving force and catalyst for economic development in countries and regions situated at high latitudes and altitudes across the globe.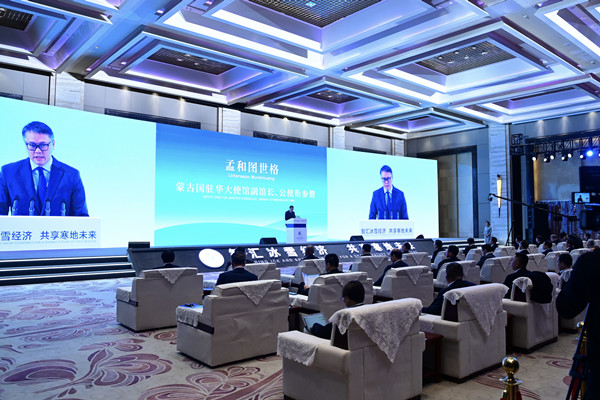 Lkhanaajav Munkhtushig, deputy director, minister counsellor of Embassy of Mongolia in China, delivers a speech. [Photo by Zhao Bo/For gojilin.gov.cn]
The accelerated development of China's ice and snow economy presents substantial opportunities and a wide scope for cooperation in the development of ice and snow economies in other cold regions, contributing significantly to global economic growth.
China expresses its commitment to deepen collaborations with countries in cold regions globally, fostering a partnership in ice and snow economy cooperation. This initiative aims to propel the high-quality development of ice and snow industries, expand international scientific and technological innovation cooperation, and accelerate the construction of harmonious coexistence between humans and nature.
Jilin province serves as a hub for regional cooperation in Northeast Asia, possesses abundant resources in the ice and snow economy, coupled with a distinctive ice and snow culture. Leveraging its inherent advantages, Jilin is actively promoting the development of the ice and snow economy, advancing high-level opening-up initiatives, and has emerged as a fertile investment landscape filled with business opportunities and optimism.