Hearing no impairment to deaf dancer from Jilin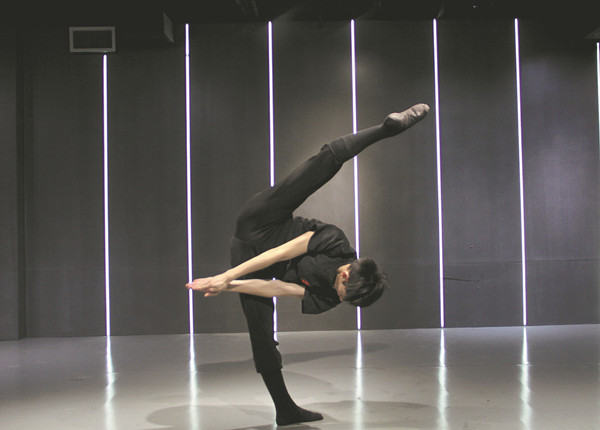 Zhan Junyi practices a solo dance at the College of Special Education of Changchun University in Changchun, Jilin province. [Photo provided to China Daily]
Cochlear implant and years of training have led to increased confidence and joy
Despite living in a silent world for over 20 years, Zhan Junyi has overcome myriad obstacles to achieve his dream of becoming a professional dancer, and is now able to hear music via an artificial cochlea.
The 21-year-old student from the College of Special Education of Changchun University in Changchun, Jilin province, has been deaf since birth.
"I was diagnosed with a congenital hearing impairment when I was born in Beijing. Since I was 2, my parents have taken me to rehabilitation training courses, and I learned to understand people by reading lips," he said.
Zhan credits not only his parents, but also teachers for helping him succeed despite his disability.
"It was a slow and laborious process, but my parents did not give up. I also got a lot of help from other people during the process, including from the teachers at the rehabilitation center," he said.
"When my parents were too busy to take care of me, my teacher would take me back to her home and help me practice speaking. Thanks to their perseverance and help, I have the chance to achieve as much as someone who can hear."
Zhan had an artificial cochlea implanted when he was 4 years old.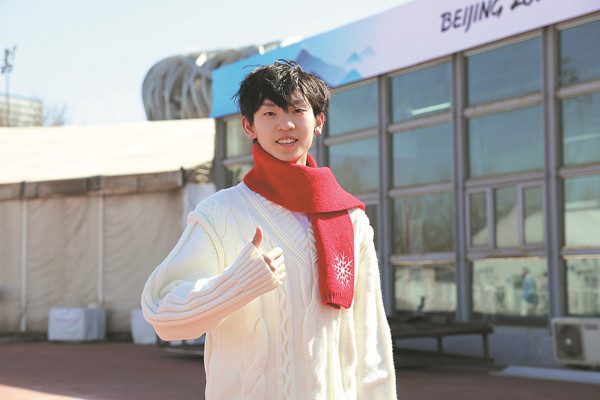 Zhan attends the Beijing 2022 Winter Paralympic Games as a performer. [Photo provided to China Daily]
"I'm able to better understand people by reading lips with its help," he said. "I have learned how to adjust it depending on different environments."
In the summer of 2008, Zhan watched a dance presentation of Avalokiteshvara Bodhisattva (Thousand-Hand Bodhisattva) staged by the China Disabled People's Performing Art Troupe at the closing ceremony of the Beijing 2008 Paralympic Games on TV.
"The dance was beautifully performed, and I was moved by their extraordinary skill and strength," he said. "I dreamed of becoming a dancer like them."
He began to watch videos of performances and competitions and learned to imitate the movements.
After graduating from primary school in 2015, Zhan passed the entrance exam for the troupe and began to learn dance with the other members.
"From the day I joined, I told myself to work hard to become an accomplished performer like these dancers who showed the whole world their great skill," he said. "I really like dancing, and the applause after a performance makes me very happy."
Zhan said that it was difficult at first, as he was not able to understand the rhythms.
"To help me keep up, my teacher repeatedly played the drum and told me where the heavy beats, light beats and rhythm points were," he said. "Then the teacher guided us using sign language. After repeated practice of a piece, I was able to familiarize myself with it."
Another difficulty resulted from his artificial cochlea, which helps him feel the vibrations.
"There are lots of strenuous movements during dancing, like jumps and turns," he said. "As my artificial cochlea can easily fall out, I have to wear a headband to help keep it in."
Through perseverance and hard work, Zhan came to excel at dancing and was admitted to Changchun University to study dance in 2021.
"I also got a lot of help from my teachers at the university," he said. "They were very respectful and never treated me differently because of my 'imperfection', so I don't see myself as different from anyone else."
In recent years, Zhan has built up a great deal of experience performing at events such as the opening and closing ceremonies of the Beijing 2022 Winter Paralympic Games and the 2023 Spring Festival Gala.
"I have studied modern dance, classical dance and ballet. I especially like classical dance," he said. "Dancing made me confident and happier and stronger."
After he graduates, Zhan wants to return to the troupe and become a national-level dancer. He said that in the future, he hopes he can help instill his passion in others like him.
"When I am too old to dance, I hope to become a teacher and help other children with hearing impairments learn how to dance and feel its joy," he said.
Contact the writers at zhouhuiying@chinadaily.com.cn