Main building of Audi FAW NEV Co's new plant capped
[Video provided to gojilin.gov.cn]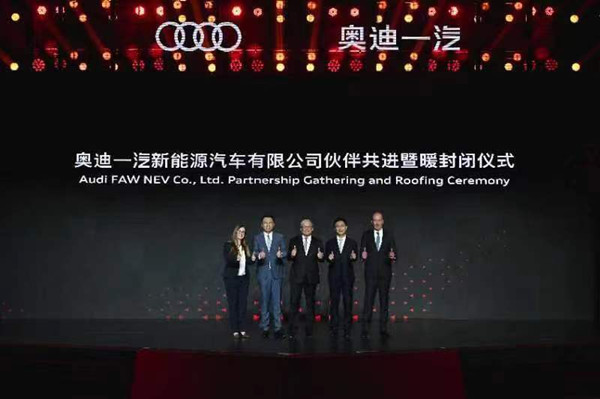 The Audi FAW NEV Co Partnership Gathering and Roofing Ceremony is held on Nov 21. [Photo provided to gojilin.gov.cn]
A ceremony marking the roof capping of the main structure of a new production plant being built by auto joint venture Audi FAW NEV Co was held on Nov 21 in Changchun, capital of Northeast China's Jilin province.
Earlier this year, automobile manufacturers Audi and FAW got the green light from the Chinese authorities to build an electric car plant as part of their joint venture. Production of up to 150,000 electric cars per year is scheduled to start at the end of 2024.
In just five months, the main building structure was completely capped, one month ahead of schedule.
Audi FAW New Energy Vehicle Co is said to not only represent Audi's new benchmark in terms of production digitization, precision and sustainability, but also demonstrate the accelerated implementation of Audi's electrification strategy.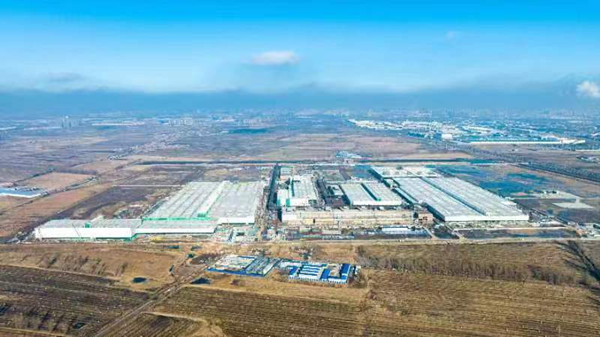 An aerial view of the Audi FAW NEV Co plant [Photo provided to gojilin.gov.cn]
Audi China president Jurgen Unser said that with the establishment of the joint venture, the German group would expand its electric product lineup in China. At the same time, it would work with local partners to produce parts and develop the latest technologies locally, so as to turn future PPE models into a new generation of smart electric vehicles.
Audi FAW NEV Co is Audi's first majority-owned joint venture in China, as well as being a key milestone in Audi's electrification strategy in China.
It is seen as being an important core of Audi's promotion of electrification strategy and localization strategy in the country – with the rapid pace of construction deemed inseparable from the extensive application of digital technology.
Through its so-called BIM – Building Information Modeling – management system, the efficiency and quality of the project are considered ensured, with a complete closed loop from monitoring to execution being created.
Through 3D laser scanning technology, high-precision point cloud data of the construction site can be obtained, adjusted and optimized in real time in response to the prevailing situation there.
Based on digital technology, construction experts in Audi's German headquarters can visit remotely and collaborate with Chinese colleagues at any time.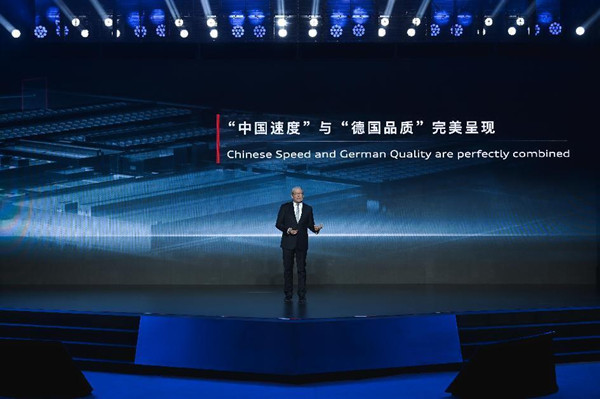 The CEO of Audi FAW NEV Co explains the combination of Chinese speed and German quality, on Nov 21. [Photo provided to gojilin.gov.cn]