Hongqi brand embarks on innovation trek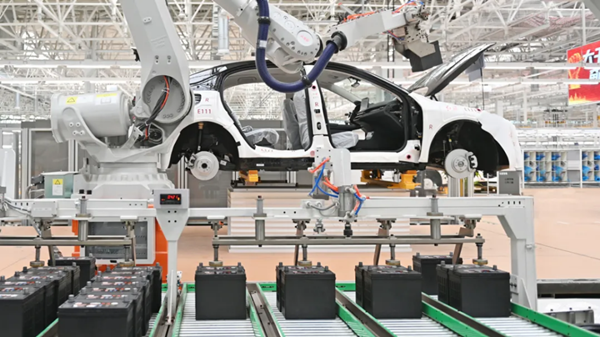 Work gets underway at the FAW Group's new Hongqi Fanrong – literally meaning prosperity – plant. [Photo provided to gojilin.gov.cn]
The China FAW Group – based in Changchun, capital city of Northeast China's Jilin province – has recorded singular growth through the introduction of innovation over the past decades, according to local media reports.
FAW is seen as the cradle of China's auto industry and after nearly 70 years of development and growth, it has established five major production bases in Northeast China, North China, East China, South China and Southwest China, and has developed a global R&D layout.
It has developed its own Hongqi, Jiefang and Bestune brands. The company has produced and sold more than 53 million vehicles in total, ranking it first in China's auto industry in terms of sales volumes.
From 2012 to 2021, the group's sales increased from 2.65 million vehicles to 3.5 million vehicles, an increase of 32.1 percent. The company's revenue last year increased to 705.7 billion yuan ($96.62 billion), for year-on-year growth of 72.4 percent. Its profits increased to 48.2 billion yuan, up 18.7 percent.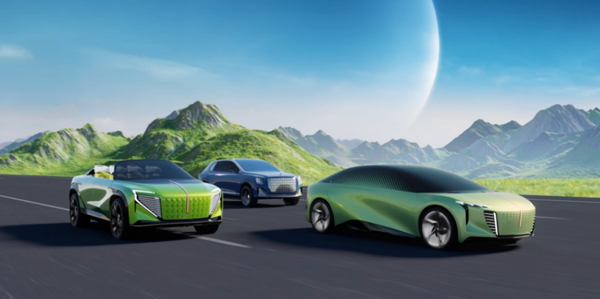 An artist's rendering of the Hongqi brand's new energy concept cars [Photo provided to gojilin.gov.cn]
For a long time now FAW has been actively focusing on its industrial transformation, building advanced technologies and strengthening breakthroughs in core technologies and the independent innovation of key technologies.
The company ranked seventh in the 2022 China Top 500 Manufacturing Enterprises List, recently issued by the China Enterprise Confederation.
Faced with the wave of development in the era of new energy and intelligent networking, FAW has actively deployed new strategies and new technologies.
Under the design and guidance of its R.Flag technology development strategy, Hongqi has developed its FME super electric intelligent vehicle platform architecture. This brings together the eight technical field groups and 115 key core technologies of the R.Flag technology development strategy, making full use of Hongqi's global R&D resources.