Ginseng lies at the root of Jilin's success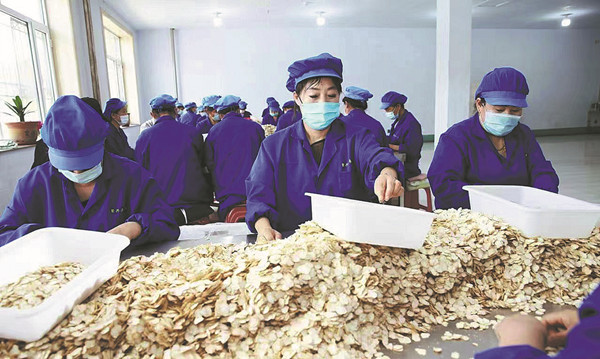 Workers sort slices of dry ginseng at a processing factory in Fusong county, Jilin province. [Photo for China Daily]
Province makes 40% of products sold worldwide, set to expand
Jilin province is working to turn ginseng into an industry worth 100 billion yuan ($14.18 billion), the province's top official said on Tuesday.
"The ginseng industry has entered an important period of development with strategic opportunities for transformation, upgrading and high-quality development," Jing Junhai, Jilin's Party secretary, said at the opening ceremony of the 2022 High-quality Development Conference of the Ginseng Industry in the capital, Changchun, on Tuesday.
"We will focus on promoting quality, product innovation and brand-building to draw up a blueprint for the development of the ginseng industry."
Jilin is the country's leading producer of ginseng and has a lengthy history of cultivating the root. More than 60 percent of Chinese ginseng is grown there, and some 40 percent of ginseng sold worldwide also comes from the province, according to Xinhua News Agency.
Last year Jilin had 9,773 hectares planted with ginseng, and the output value of its ginseng-related industries was about 60 billion yuan.
According to a development plan released by the provincial government in May, the industry is projected to exceed 80 billion yuan by 2025 and reach 100 billion yuan by 2030.
Jing also said that Jilin will work on recognition by focusing on its Changbai Mountain Ginseng brand.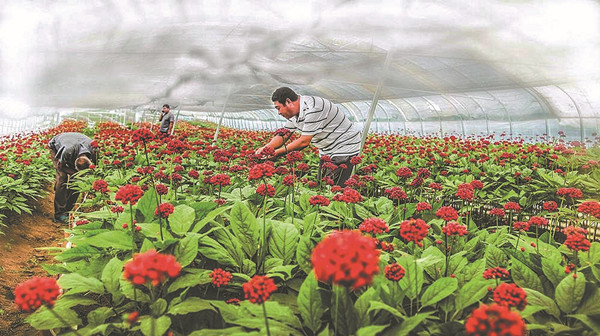 Farmers tend ginseng growing in a greenhouse on a plantation in Fusong. [Photo for China Daily]
It was first marketed after being registered at the State Administration of Industry and Commerce in 2009. In 2012, a franchiser was created to recruit franchisees willing to follow the same management concept, and in 2017, Changbai Mountain Ginseng was officially recognized as a China Famous Brand, a Jilin Famous Brand and a Changchun Famous Brand.
After years of development, the popularity and influence of the brand continue to grow, and increasing numbers of producers and investors are getting involved with the ginseng industry.
The Changbai Mountain Ginseng Planting Alliance, which was set up in 2016, aims to improve yields and quality by finding better ways to grow and protect the crop.
"The improper use of chemical pesticides by some farmers in pursuit of higher yields may result in high buildups in the root and poor quality," said Xu Huaiyou, secretary-general of the alliance. "We are working to help farmers grow quality ginseng and increase yields by opening planting centers, setting standards for pesticide use and providing access to scientific planting methods."
At the Wanliang Ginseng Trading Market in Jilin's Fusong county — the largest ginseng trading market in Asia — a kilogram of fresh ginseng grown by the Changbai Mountain Ginseng Planting Alliance sells for 2 to 4 yuan more than the market price, due to its higher quality.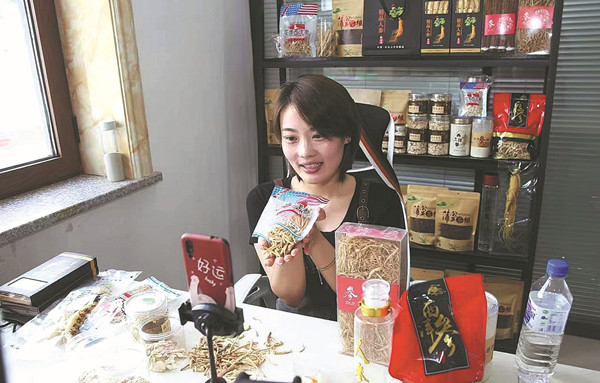 A trader sells ginseng products via livestreaming in Fusong. [Photo for China Daily]
Fusong, which is at the northwestern foot of Changbai Mountain, is known as the "hometown of ginseng" for its forests, rich and fertile soil, and cool, humid weather, which provide the ideal conditions for growing ginseng.
Covering an area of nearly 40,000 square meters, Wanliang is a large-scale comprehensive market that integrates economy and trade, finance, logistics, warehousing and associated services.
Each year, it sells ginseng products to some 30 countries and regions, including Japan, South Korea and the United States.
The market has an average annual sales volume of 40,000 metric tons, and its highest annual turnover reached 20 billion yuan. It has also become a platform helping residents use e-commerce platforms, livestreaming and AI to sell ginseng.
The booming market has drawn many young people back home to start their own businesses.
"There are more than 4,000 households in Wanliang township engaged in the planting, processing and marketing of ginseng," said Li Bin, township Party secretary. "And some 100,000 households in nearby areas have also begun to participate in the industry."