Dynamic decade: Jilin province boasts better environment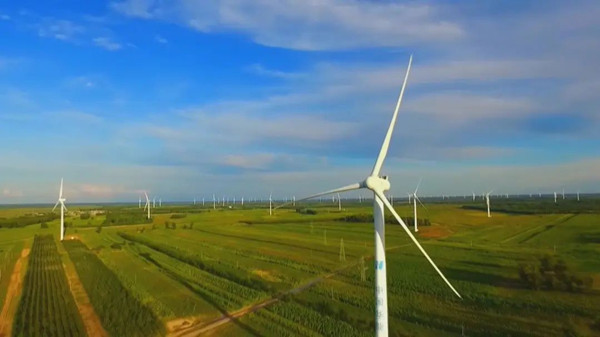 A wind farm's power turbines work silently, in Jilin province [Photo/WeChat account of Youyou Jilin]
The ecosystem and environment in Northeast China's Jilin province are continuing to improve, with remarkable progress achieved over the past decade, according to local media reports.
This has contributed to the province's efforts in creating a "Jilin model" for the development of a Beautiful China.
The proportion of good water bodies has increased from 68.8 percent 10 years ago to 78 percent now. Previously black and malodorous water bodies in the built-up areas of cities at the prefecture level and above have practically been eliminated, while all environmental problems in the water source areas at the county level and above are reportedly to have been eliminated.
In particular, the air quality of Jilin continues to go from strength to strength. Over the past decade, the proportion of days with good air quality in Jilin has increased from 82 percent to 94 percent.
Furthermore, in July and August this year, the proportion of days with good ambient air quality in nine cities at a prefecture-level and above in the province was 100 percent.
During the period, the concentration of key PM2.5 pollution was 11 micrograms per cubic meter, the best level ever recorded for the province.
A lush, panoramic view in Jilin province [Photo/WeChat account of Youyou Jilin]
In recent years, Jilin province has paid close attention to a ban on burning straw, as well as the conservation of rivers and lakes.
Meanwhile, the Northeast China Tiger and Leopard National Park was officially launched last year. The region has historically been home to large numbers of Siberian tigers and Siberian leopards and is the only area with permanent wild populations and breeding families.
Underlying the overall eco-friendly gains, the region's ecological environment condition index has stood at a good level for 18 years in a row.
The province's ecological index stood at 68.62 and the ecological environment status was stable, at a good level.