Auto producer FAW Group on list of top 500 Chinese enterprises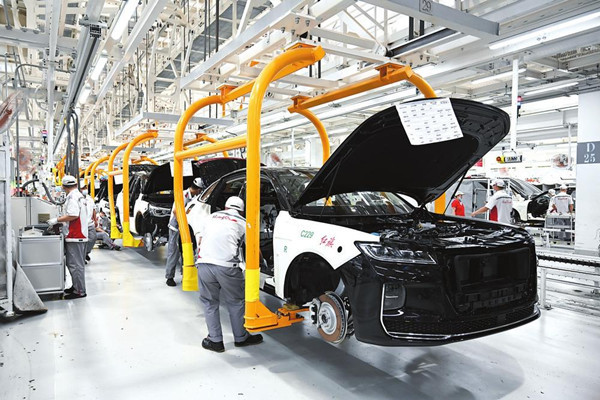 Workers get cracking at a production line at FAW's Hongqi plant. [Photo/Jilin Daily]
Auto manufacturing giant China FAW Group – based in Changchun, Northeast China's Jilin province – recently ranked 27th among the Top 500 Chinese Enterprises in 2022 with an operating income last year exceeding 705.6 billion yuan ($100.69 billion), according to local media reports.
To top it off, it also ranked seventh in the list of the Top 500 Chinese Manufacturing Enterprises in 2022.
The total operating income in 2021 of the top 500 Chinese groups topped 1 trillion yuan for the first time, reaching 102.48 trillion yuan.
In the field of automobiles, a total of 14 vehicle companies are on the list and 13 of them have exceeded 100 billion yuan in operating income – demonstrating the status of automobiles as a pillar industry of the national economy.
Among the 14 auto companies on the list, the two companies with revenue exceeding 700 billion yuan each are SAIC and China FAW Group.
Dongfeng Motor Co and China North Industries Group had revenue of more than 500 billion yuan each, ranking them third and fourth respectively.