Jilin robotic arm used in Shenzhou-14 mission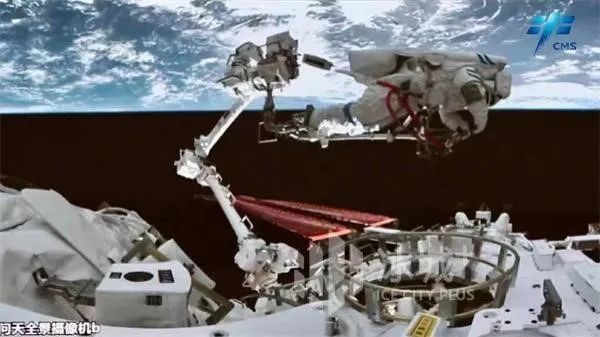 The robotic arm developed by the Changchun Institute of Optics, Fine Mechanics and Physics swings into action during the Shenzhou-14 mission. [Photo/Jilin news network]
A robotic arm developed by the Jilin-based Changchun Institute of Optics, Fine Mechanics and Physics (CIOMP) is being instrumental in the success of the Shenzhou-14 mission, according to local media reports.
At 00:33 hrs on Sept 2, the Chinese Shenzhou-14 astronauts completed their first extravehicular activity with optimal results.
Before the maneuver, the in-orbit test of the robotic arm of the Wentian space lab was completed and all indicators performed well and achieved the expected results.
In the mission, the robotic arm efficiently transported the astronauts to their operating point, which once again demonstrated its advantages for flexible movements and accurate positioning.
The top-flight performance was said to have laid a solid foundation for a subsequent series of extravehicular operations. It has helped astronauts to make quick transfers between the exit hatch and the operating point, greatly improving the efficiency of the exit operation and reducing risks.
Moving forwards – in addition to aiding the astronauts in their extravehicular activities – it will also undertake tasks such as taking care of extravehicular test equipment.
Plans are for the space lab to have a large arm and a small arm assembled to form a larger robotic arm. This will have a larger operating range and a larger transfer range, so as to complete the installation of some extravehicular equipment.