Jilin province records strong first-half economic rebound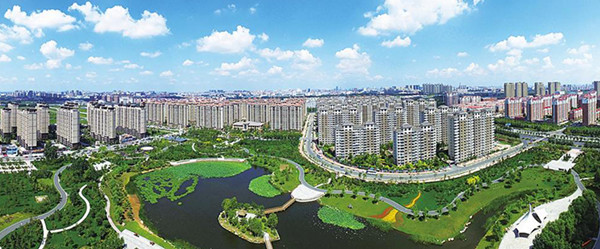 The Changchun New Area is reported to be currently doing very well, helping to drive growth in Changchun city, capital of Jilin province. [Photo/Changchun municipal people's government]
In the first half of 2022, the GDP of Northeast China's Jilin province came in at 569.72 billion yuan ($83.97 billion), while its economy recovered particularly rapidly in May and June, according to the latest data released by the Jilin Provincial Bureau of Statistics.
In the six months, in the face of the sudden impact of the COVID-19 epidemic, Jilin province focused on epidemic prevention and control, as well as the stable production and supply of its agricultural and animal husbandry products. In the event, these were deemed to be sufficient and the agricultural situation was generally stable.
During the period, the value of the province's output from agriculture, forestry products, animal husbandry and fisheries reached 74.71 billion yuan, a year-on-year increase of 2.1 percent based on comparable prices.
As a major grain province and an important national commodities grain base, Jilin issued a number of policies during the epidemic period, to assist farmers to return to their hometowns, efficiently distribute agricultural materials and provide technical support to enable farmers to carry out spring ploughing and production. As a result, the main grain varieties were sown within the required sowing period.
Since the start of the year, the province's industrial economic performance has gradually improved, while industrial economic growth rebounded in June.
In that month, the province's industrial added value increased by 6.3 percent year-on-year, a growth rate that was 2.4 percentage points higher than the national average.
From the perspective of key industries, sectors such as automobile production, petrochemicals, equipment manufacturing and information have achieved rapid recovery.
In June, the added value of the auto industry increased by 17.3 percent year-on-year, 32.4 percentage points higher than that in May.
In the first half of the year, the province's strategic emerging industries achieved an output value of 100.25 billion yuan, accounting for 15.9 percent of designated industries, an increase of 1.1 percentage points over the previous corresponding period.