Jilin seeks high-quality growth driven by innovation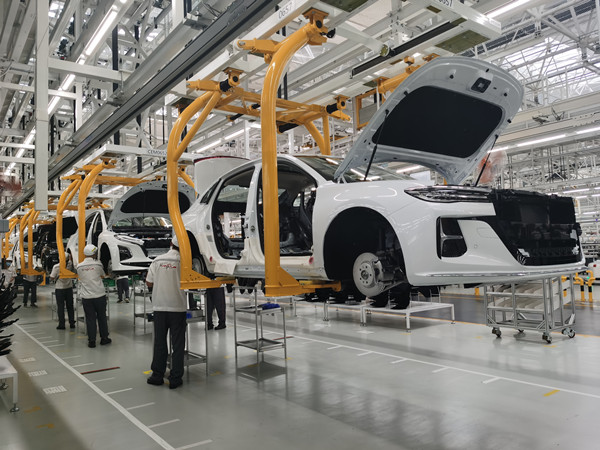 Workers move into high gear at one of the production lines of FAW Group. [Photo provided to gojilin.gov.cn]
Northeast China's Jilin province has been promoting its innovation-driven development strategy and adopting comprehensive measures to tackle bottlenecks in its development over the past decade, senior officials said on Monday.
The province's economy has made steady progress and its key industries have developed vigorously over the years, Jing Junhai, Jilin's Party secretary, said at a news conference in Changchun, the provincial capital, on Monday.
Official data showed that the province's fixed-asset investment last year increased by 11 percent, ranking fourth among all provincial-level regions in the country for two consecutive years. Its total retail sales of consumer goods rose by 10.3 percent, ranking 15th nationwide. Both figures were the best performance of the province since 2012.
Jing said that Jilin has continuously innovated its governance system, deepened its reform and improved its business environment in recent years, with the online efficiency of its investment platform being one of the best in China.
"Based on Jilin's situation, the government has explored specific paths and measures to promote high-quality development, boost its capability in competition and innovation and strengthen the ability of its economy to withstand risks," he said.
The province has constantly optimized its industrial structure, with the new energy, new equipment, new materials, agriculture, tourism and e-commerce sectors being upgraded, and a new pattern of industrial development has been initially formed, he said.
A number of major projects, each of which with an investment of 100 billion yuan ($14.8 billion), have been launched in Jilin, fostering new driving forces for the province's vitalization and development, Jing said.
Optimizing the business environment has been the top priority in promoting Jilin's high-quality economic development over the years, and the province's efforts have helped create a law-based, efficient and convenient market environment for enterprises, said Han Jun, the governor of Jilin.
"The improvement in the business environment has helped create more market entities and facilitated their rapid production as well as the launch of more projects," Han said.
The number of newly registered market entities in Jilin grew 50.6 percent last year, the third fastest in China. The total number of market entities in the province has exceeded 3 million, official data showed.
Jilin has always taken innovation as the key to solving the problems of vitalization and development. It strives to form an innovation-driven development model with Jilin characteristics, said Han.