New Fuxing intelligent EMUs roll off assembly line in Jilin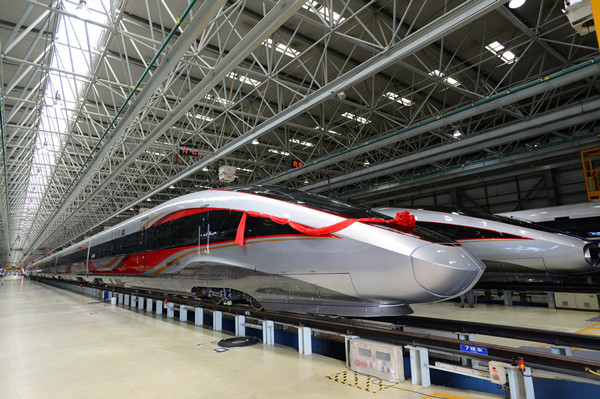 The new Fuxing high-speed bullet trains developed by CRRC Changchun [Photo provided to gojilin.gov.cn]
A batch of new Fuxing high-speed bullet trains developed by CRRC Changchun Railway Vehicles Co, based in Changchun, capital city of Northeast China's Jilin province, are ready to be delivered to Zhengzhou, Henan province, on June 15.
The new Fuxing bullet train, with a speed of 350 kilometers per hour, will be put into operation on the safety standard demonstration line of the Beijing-Guangzhou High-speed Railway – the section linking Beijing with Wuhan.
The razor-sharp outline of the train and the funky exterior design motifs make the train appear to be rocketing through the landscape, even when it is standing still. It is red and yellow in color.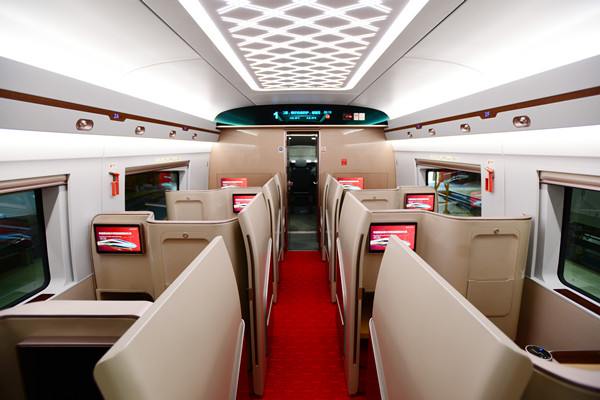 The interior of the Fuxing high-speed bullet train [Photo provided to gojilin.gov.cn]
It combines intelligent technology with the advantageous configurations and practical applications of the Fuxing intelligent EMU and is equipped with a 5G+WiFi network, optimizing the infotainment system.
The aerodynamic resistance of the train has been reduced by 7.9 percent, cutting energy consumption by 10 percent.
It can automatically adjust the temperature according to the environment inside and outside the train carriages and can automatically adjust the internal and external pressure differences when the train is running, reducing passenger discomfort when the train enters and exits tunnels.
The new train is not only capable of providing intelligent passenger services, but also realizing intelligent operations and maintenance.
It uses an on-board safety monitoring system and an on-board malfunction prediction and operation management system that can monitor the status of various systems in real time and activate the train's early fault warnings – as well as provide predictions, data summary storage and status evaluations.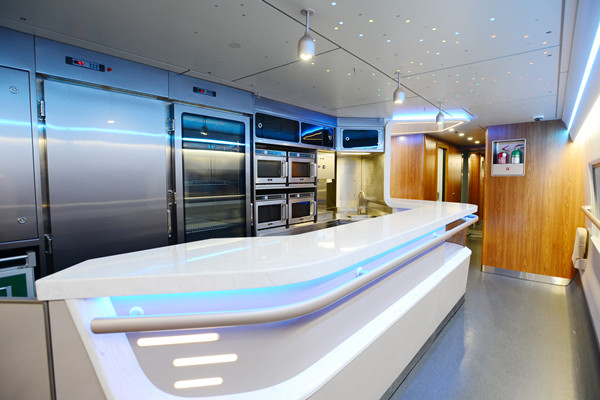 A restaurant carriage is ready to start serving passengers in a new Fuxing train. [Photo provided to gojilin.gov.cn]