Jilin sees robust development in new materials industry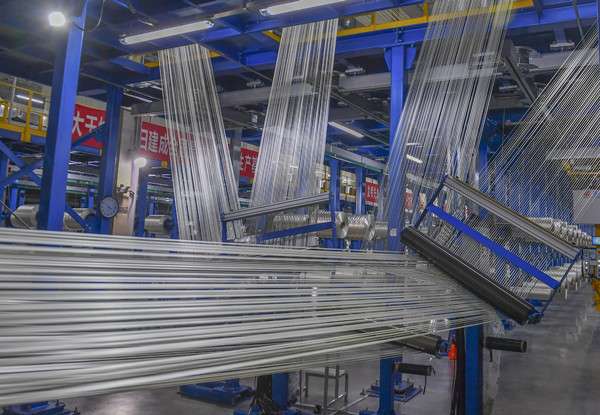 A workshop being operated by Jilin Chemical Fiber Group Co swings into gear. [Photo provided to gojilin.gov.cn]
Northeast China's Jilin province has seized upon the opportunities presenting themselves and has developed a raft of projects to produce carbon fiber precursors – the raw material used to make carbon fiber – as well as carbon fiber and composite materials production plants, further expanding its new materials industry.
Last September, the province issued a policy called Several Measures to Promote High-Quality Development of Carbon Fiber and Composite Materials Industry.
In addition, 19 specific policy measures were put together that cover five areas: optimizing the industry's layout, highlighting innovation and leading players, strengthening the supply chain, ensuring the supply of the factors of production and boosting policy support.
Currently, Jilin province has an annual production capacity of 60,000 metric tons of carbon fiber precursors and production capacity of 25,000 tons of carbon fiber, ranking it first in the country.
With Jilin Chemical Fiber Group Co as the lead enterprise, Jilin city in the province now boasts 19 R&D and carbon fiber producers, including 12 above a designated scale – those with annual revenue of 20 million yuan ($2.99 million) or more.
What's more, the carbon fiber industrial base of the Jilin Economic and Technological Development Zone has been recognized by the Ministry of Science and Technology as a "national carbon fiber high-tech industrialization base".
The development of the new energy industries represented by wind energy and solar energy is seen as being inseparable from new materials, providing energy storage support.
A big new ultra-high-power graphite electrodes plant, to be operated by Zhongyi (Jilin) New Material Technology Co, will involve a total investment of 2.04 billion yuan.
After the plant starts operating and ramps up to full production, it is expected to achieve annual output worth 5 billion yuan.