National agriculture demonstration zone opens in Changchun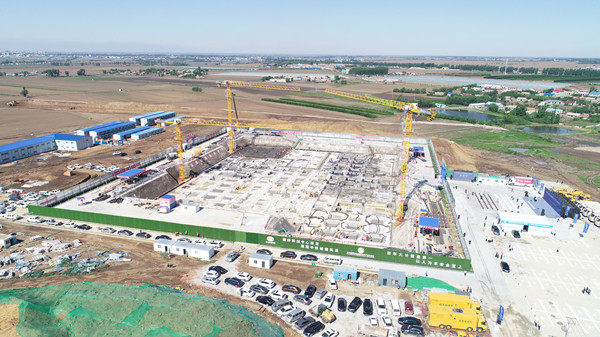 A view of the Jilin Changchun National Agricultural High-tech Industry Demonstration Zone, while under construction. [Photo provided to gojilin.gov.cn]
The Jilin Changchun National Agricultural High-tech Industry Demonstration Zone was officially opened on May 31 in the county-level city Gongzhuling – administered by Changchun, in Northeast China's Jilin province – under the aprroval of the State Council, or China's Cabinet.
The agricultural high-tech zone will focus on the green circular agriculture in the Songnen Plain. With corn as its leading industry, it will establish a pilot area for high-efficiency and quality-improving grain production, a model area for the sustainable development of black soil, an agglomeration area for the development of the entire corn industry supply chain and a model area for rural revitalization in Northeast China.
The overall design of the zone will feature a core area, located in the Gongzhuling urban area, with an area of 9.86 square kilometers. Based on the existing industrial foundation, it will plan and develop a modern agricultural expo park, agricultural high-tech innovation and entrepreneurship, intelligent agricultural machinery R&D and manufacturing and corn processing industry.
There are plans for a dozen key projects to be constructed in the agricultural high-tech zone, with a total investment of 11.77 billion yuan ($1.76 billion).
Seven projects – including a Science and Technology Innovation Center, a National Modern Seed Industry Park and the Hongxiang Seed Industry Silicon Valley Park – have started construction.
Projections are that by 2024, the total output value of the zone will reach 30 billion yuan, 35 high-tech enterprises will be established and the output value of high-tech products will account for 35 percent of the total output value.
Gongzhuling is widely known as the "Hometown of Corn in China". It is a major agricultural region, an important commercial grain base in the country and was one of the first places in Jilin province to realize agricultural modernization.