CRRC Changchun shines at Middle East Rail 2022 show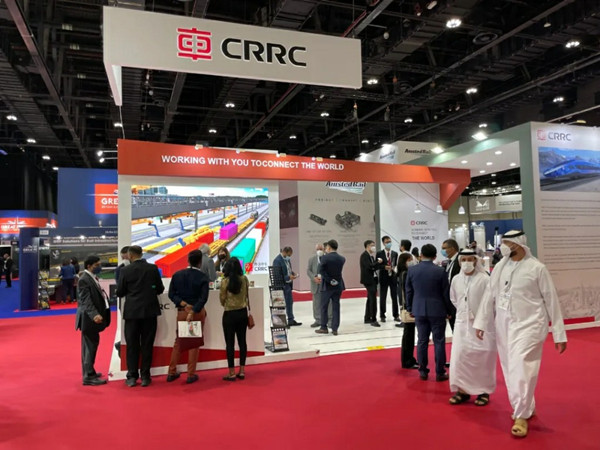 The stand for CRRC Changchun Railway Vehicles gets set up at the Middle East Rail 2022 show. [Photo/Jilin Daily]
CRRC Changchun Railway Vehicles Co is said to have grabbed the distinct interest of participants of the Middle East Rail 2022 show which took place on May 17-18, in the Abu Dhabi National Exhibition Center in the United Arab Emirates, with its cutting-edge products.
The company is based in Changchun, Northeast China's Jilin province.
Held annually, the exhibition is one of the most influential, professional and longest-running rail industry events in the Middle East. This year, more than 250 companies from China, the US, Germany, the UK and other countries and regions took part.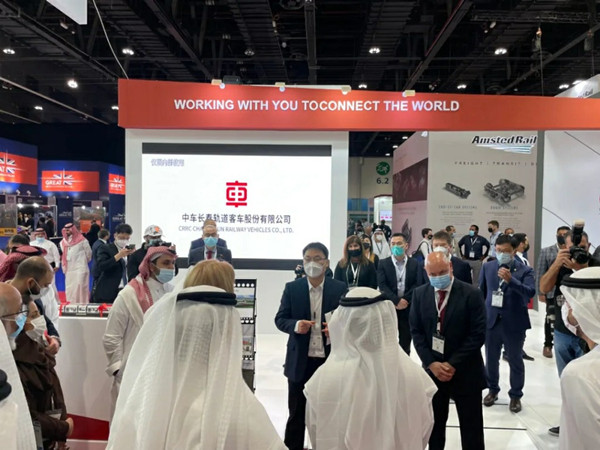 Visitors enquire about new technologies being developed by CRRC Changchun Railway Vehicles at the exhibition. [Photo/Jilin Daily]
At the show a wide range of products being developed by the company stole the limelight, including the Fuxing high-speed EMU, the Tel Aviv tram, a new generation straddle monorail, as well as a next generation subway.
The group's exhibition stand attracted visits from dignitaries from the United Arab Emirates, Egypt and Oman, as well as potential customers.
Lou Fangzuo, deputy general manager of the company's overseas business department, gave a presentation on its product platform and system solutions to the UAE Minister of Energy and Infrastructure and to other top officials.
The company's two models – dubbed the "product+" and "system+" – are said to provide customers with better vehicle operations service guarantees, offering an integrated solution that is more efficient and coordinated.
According to officials from the Dubai roads and transport authority, it is continuing to build the world's most advanced rail transit network system and will keep on trying out new products and services for its rail transit systems.
The hope is that CRRC will boost its cooperation and enter the Dubai market with its top-flight rail transit products and services.