Bos primigenius fossil from 20,000 years ago on display in Jilin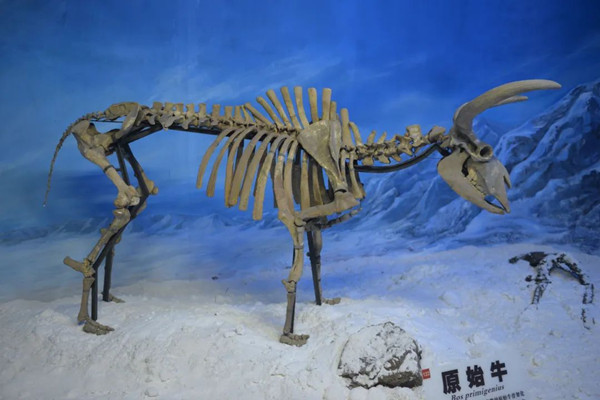 A skeleton fossil of bos primigenius is on display at the Jilin Province Museum of Natural History in Jilin province. [Photo/WeChat account of Youyou Jilin]
A skeleton fossil of bos primigenius is on display at the Jilin Province Museum of Natural History in Changchun, capital city of Northeast China's Jilin province, according to local media reports.
The skeleton fossil, from 20,000 years ago, is one of the most complete bos primigenius skeleton fossils in Asia.
It is 278 centimeters long, 63 cm wide and 153 cm high. Only the mandible, a pair of ulna and radius and part of the vertebral process of the vertebra are missing.
Bos primigenius was the ancestor of the domestic cattle. It was the most widespread in the Pleistocene period and once lived all over Eurasia, but it has long since become extinct due to factors such as human hunting and ecological destruction.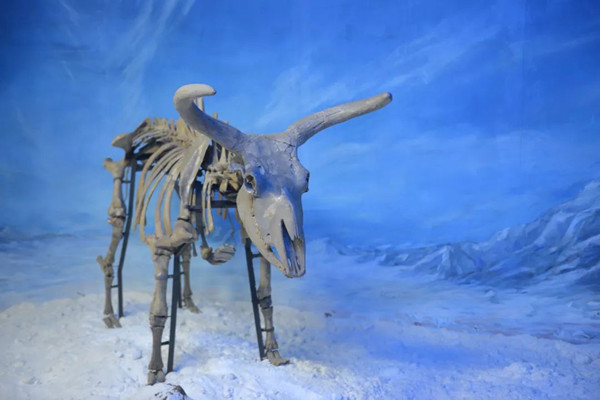 The bos primigenius skeleton fossil [Photo/WeChat account of Youyou Jilin]
Bos primigenius are a common species of late-Pleistocene mammoth-woolly rhino fauna in Northeast China.
However, due to severe limitations in fossil formation and preservation conditions, most of the existing fossils are very incomplete, and such a complete skeleton fossil has never before been found in the area.
Address of the Jilin Province Museum of Natural History:
No 2556, Jingyue Street, Changchun (opposite the Jingyue Campus of Northeast Normal University)
Business hours: 9:00-16:00 Tuesday to Sunday; closed on Mondays
How to get there: Take Light Rail Line 3 and get off at Northeast Normal University Station; or take the No 160 bus and get off at Jinbao Street Station.