Dongliao gourd painting steals limelight at Jilin Theme Day
Visitors are a picture of industry, as they try painting onto a gourd during Jilin Theme Day. [Photo/Jilin news network]
Gourd painting from Dongliao county, in Northeast China's Jilin province, stole the limelight at the Jilin Theme Day on Feb 9, held at the media center serving the Beijing 2022 Winter Olympics in the nation's capital, according to local media reports.
Jilin Theme Day, showcasing the charms and fascinating cultural characteristics of the province, reportedly attracted the widespread interest of the media, as well as domestic and foreign guests.
Dongliao county has flat terrain and fertile black soil and that, coupled with the right climate conditions, makes it very suitable to grow gourds – fleshy, squash-like fruit with hard, colorful skins.
As a result, many families in the region plant them, leading to the development of Dongliao gourd painting.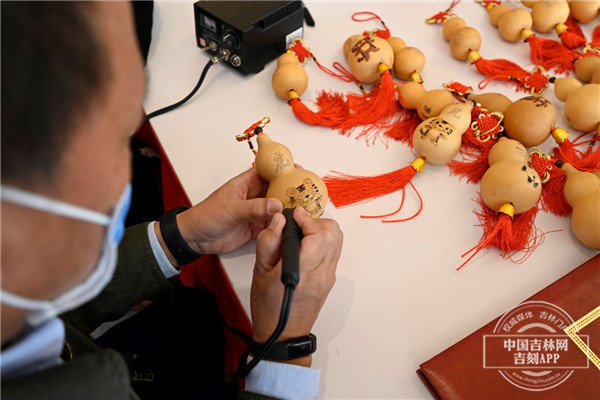 A visitor concentrates, making sure he gets the design just right, as he decorates a gourd. [Photo/Jilin news network]
Dongliao gourd painting is characterized by color painting and fire painting. Color painting involves decorating the gourd with bright colors, so that the color and the shape and size of the gourd itself are unified.
In addition, Dongliao gourd painting has been put on the list of protected Jilin provincial intangible cultural heritage.