Raft of Jilin-1 satellites to launch into planned orbits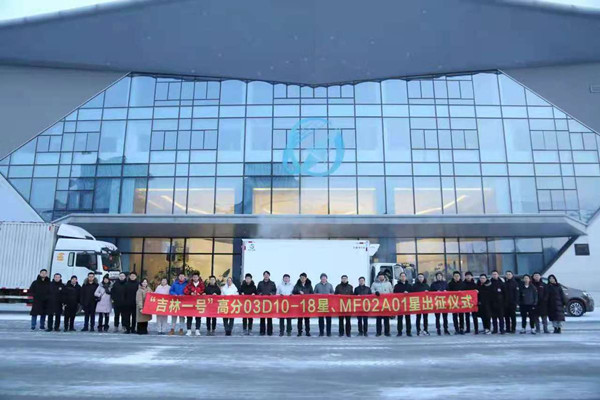 A ceremony is held by Chang Guang Satellite Technology Co on Jan 17, to celebrate the upcoming launch of 10 Jilin-1 satellites. [Photo provided to gojilin.gov.cn]
A total of 10 Jilin-1 satellites are set to be sent into planned orbits by Chang Guang Satellite Technology Co – based in Changchun, capital of Northeast China's Jilin province – following a launch ceremony held on Jan 17, according to local media reports.
The Xiamen Science and Technology No 1 Pilot Satellite – or Jilin-1 MF02A01 – is a 30-kilogram multifunctional commercial satellite jointly developed by Chang Guang Satellite Technology Co and Xiamen Tianwei Technology Co.
It is designed to be mainly used to verify the functionalities and reliability of the new generalized satellite platform design. The 10 satellites being launched will also reportedly facilitate the digital transformation and development of East China's Fujian province, as well as the smart city construction of Xiamen, located in Fujian.
They will be launched at the Wenchang Spacecraft Launch Site, in China's southernmost Hainan province, in the near future.
Chang Guang Satellite Technology Co, the first commercial remote sensing satellite company in China, was the only group from Northeast China, to be selected in the 2020 China Unicorn Enterprises List. Unicorn companies are startup firms valued at $1 billion or more.
Jilin-1 satellites are the company's core products. With the launch of the 10 Jilin-1 satellites, the number of Jilin-1 satellites in orbit will stand at 41.
Satellites on station typically provide more abundant remote sensing data and product services in the fields of agriculture, forestry, the ocean, resources, environmental protection, urban construction and scientific experiments.