Changchun International Automobile City achieves rapid development

An aerial photo of Changchun International Automobile City in Changchun, Jilin province [Photo/Jilin Daily]
Changchun International Automobile City – located in Changchun, capital of Northeast China's Jilin province, is working closely with auto giant China FAW Group and is confident of a bright future for the automobile sector.
With improvements in the living and investment environment, the automobile city has so far attracted 2,000 experts and more than 100,000 industrial workers from 29 countries.
The city has established nine investment promotion bureaus to serve FAW Group in different fields. It has formulated plans with FAW for the development of new production capacity, new energy and intelligent networked vehicles, mobile travel, parts and components, and other fields to create a new ecosystem of innovative industries.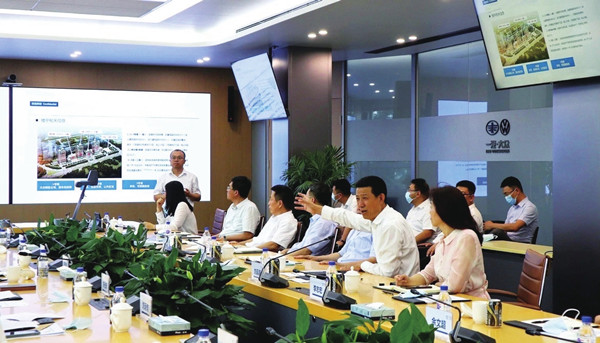 A team at Changchun International Automobile City visits China FAW Group. [Photo/Jilin Daily]
The auto city is helping FAW and Jilin University to jointly develop Hongqi College in order to cultivate high-quality talent that meets the needs of the industry.
An intelligent connected vehicle (ICV) demonstration area built by FAW Group and the city of Changchun was launched last year in Changchun.
An ICV demonstration area project entitled Qizhi Chuncheng involves innovative cooperation between the municipal government and the company.
The project represents a major step forward for FAW in cross-industry co-construction, cross-business cooperation and implementation within the scenario of smart city travel applications.
The auto city is also supporting FAW's expansion of open cooperation, introducing key companies and key projects to meet the needs of new energy vehicles and the testing and mass production needs of FAW Group's hydrogen fuel vehicles.
In the first half of this year, the Changchun Automobile Economic and Technological Development Zone – where the auto city is located, completed domestic investment of 13.91 billion yuan ($2.17 billion), a year-on-year increase of 85.79 percent. The foreign capital in place was $274 million, an increase of 1074 percent year-on-year.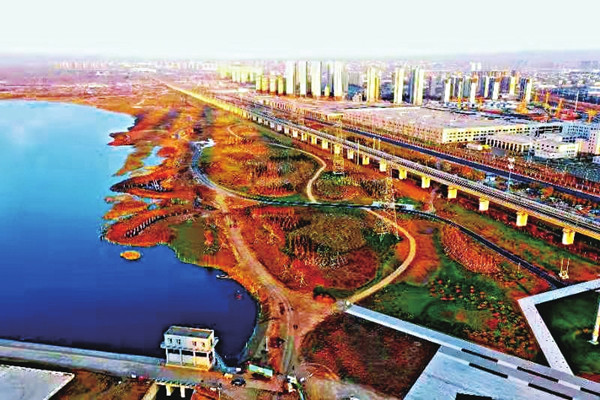 The Xihu Park in Changchun International Automobile City is under renovation. [Photo/Jilin Daily]