Jilin Agricultural University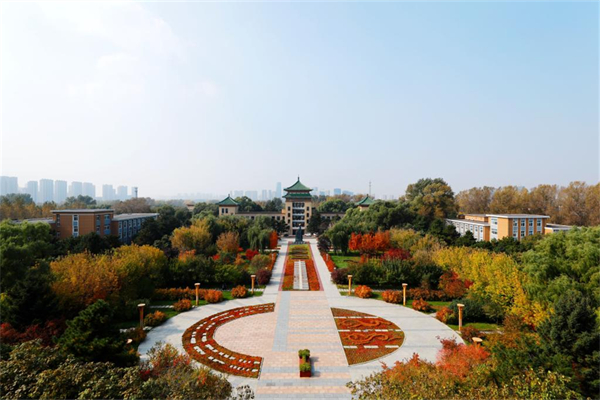 Jilin Agricultural University boasts a well-planned campus and pleasant scenery. [Photo/jlau.edu.cn]
Founded in 1948, Jilin Agricultural University is a high-level applied research university of Jilin province (A-type), and was jointly established by the Jilin Provincial People's Government and the Ministry of Agricultural and Rural Affairs.
After more than 70 years of construction and development, it has become a provincial key university specializing in agriculture and life sciences, as well as the coordinated development of agriculture, science, engineering, medicine, literature, management, law, education, economics, and art.
The university covers a total area of 1,347 hectares, of which the campus covers an area of 312.66 hectares and teaching, and research bases occupy an area of 1,034.34 hectares.
The university is located in Changchun, capital of Jilin province, next to Jingyuetan National Forest Park, a national 5A-level scenic spot. It boasts a well-planned campus and pleasant scenery.
Jilin Agricultural University has 20 undergraduate schools, one direct teaching department, and one graduate school, as well as nine mobile post-doctoral research stations. Its disciplines of botany, zoology, and agricultural sciences rank among the top one percent in Essential Science Indicators' global rankings.
The university currently has 1,817 faculty members, including one academician of the Chinese Academy of Engineering and one dual-employed academician.
There are currently 19,800 full-time students at Jilin Agricultural University, among which 15,954 are undergraduates, 3,273 are postgraduates, 431 are doctoral candidates, and 142 are international students.
Over the years, the employment rate among graduates has been at the forefront of colleges and universities in the province.
Since the 13th Five-Year Plan (2016-20) period, the university has undertaken a total of 2,016 projects of various types and levels, with scientific research funding reaching 870 million yuan ($134.07 million).
In terms of opening-up of school running, Jilin Agricultural University has established inter-school exchanges and cooperation with 93 colleges and institutions in the United States, Canada, the United Kingdom, Italy, Russia, Japan, and South Korea.