Baicheng to develop new energy industry demonstration park

"Wind-solar complementation" is the main component of the development of the new energy industry in Baicheng city. [Photo/Jilin Daily]
New energy industry demonstration parks are set to be developed in the cities of Baicheng and Songyuan in Northeast China's Jilin province, according to a provincial government report.
Baicheng is the country's only local wind power consumption demonstration zone, and a national new energy demonstration city.
As of the end of 2020, the installed capacity of Baicheng city's power supply was 7.71 million kilowatts. Of this total, the wind power installed capacity is 3.94 million kilowatts, and the photovoltaic installed capacity is 1.86 million kilowatts.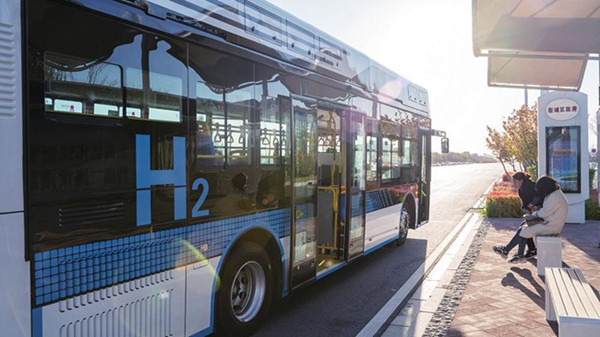 Baicheng is the first city in Northeast China to open a hydrogen-fueled bus line. [Photo/Jilin Daily]
During the 14th Five-Year Plan period (2021-25), Baicheng city is planning eight major projects, such as the UHV project to transmit electricity from Jilin to the southern part of the country, a new energy guarantee base in western Jilin, and a new energy equipment manufacturing base, with a planned investment of 323.9 billion yuan ($49.27 billion).
Of this total, 171.9 billion yuan is set to be invested during the 14th Five-Year Plan period.
Beginning in 2018, Baicheng has begun to develop its hydrogen energy industry, and has been striving to build the city into the "Hydrogen Valley of North China".
Starting with the development of new energy power, Baicheng is extending the development of a full industrial chain of hydrogen production, hydrogen storage, hydrogen transportation, and hydrogen use, highlighting the development of hydrogen energy equipment, hydrogen fuel cells and the entire vehicle industry, and building a hydrogen energy "industrial tree".
According to Baicheng's hydrogen energy development plan, from 2021 to 2025, hydrogen production capacity will reach 100,000 metric tons, the cumulative fixed investment will be 50 billion yuan, and the output value will be 20 billion yuan.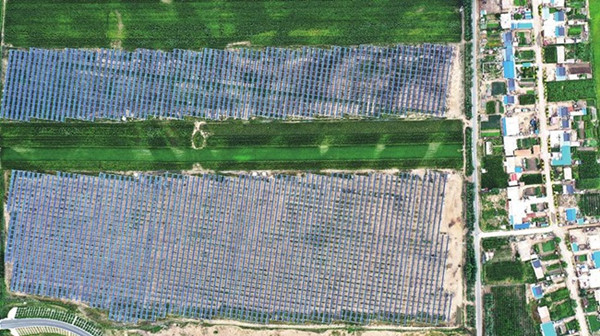 Baicheng city has achieved full coverage of photovoltaic poverty alleviation power stations. [Photo/Jilin Daily]