Miaoxiangshan Ski Resort
The Miaoxiangshan Ski Resort covers an area of 160,000 square meters and contains 100,000 cubic meters of snow. It consists of a ski area, ice and snow playing field, an exploration zone, culture and art display area and comprehensive service zone.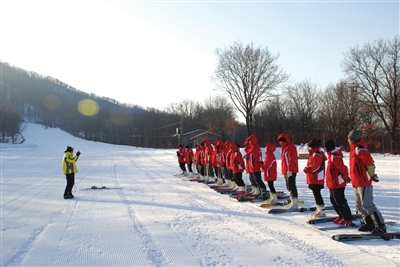 The ski zone has a junior ski run, a medium-level one, and three high-mountain runs, as well as two magic carpets and a two-man-carriage cableway. Total lengths of the snow run stands at 5,000 meters. There are a total of 2,000 sets of advanced snowboards.
A top snowboarding park and a wild ski run have also been built. The ice and snow playing field offers snow bowling, flying disc, zorb ball, golf and motor programs. Two cross-country vehicle tracks were set up at the exploration zone. They run for 2,700 meters and cover an area of five hectares. They are not only able to give tourists an unforgettable experience but also hold various big-scale rally races.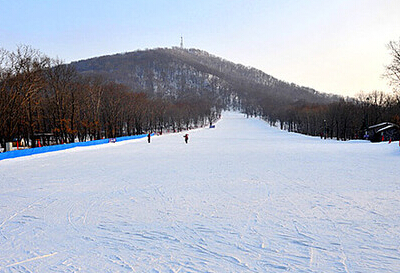 The culture and art display area is home to snow sculptures, while the comprehensive service zone has a ski tool hall and a parking lot. The ski tool hall has two floors, the first of which consists of a ticket center, customer service, ski tool rental and dining centers, as well as a restaurant, water bar and commodity department. An indoors play ground is available on the second floor. The resort's restaurants offer self-service and à la carte and can house 500 people simultaneously.
There are two rural household-styled diners nearby that provide clean and tasty food and can take in 200 people. The parking lot covers an area of 20,000 square meters. An eight-kilometer-long road between Jiuwan road and the ski resort has been built, offering much more convenient transportation.
The ski resort will also be the hosting venue for the first China Changchun Miaoxiangshan Ski Music Festival, which features a band performance, singer competition and bonfire party. There are also other activities going on at the resort, such as a creativity market, future post office exhibition and parent-children interactions.