Hotels in Changbai Mountains scenic spot
Holiday Inn Resort Changbaishan
Changbaishan International Resort is a world-renowned mountain resort located at the foot of the Changbai Mountains in Jilin Province. The resort is a favorite destination for travelers on summer and winter holidays, and serves as tourist hotspot for golf, skiing and great variety of nature-based leisure and sightseeing activities.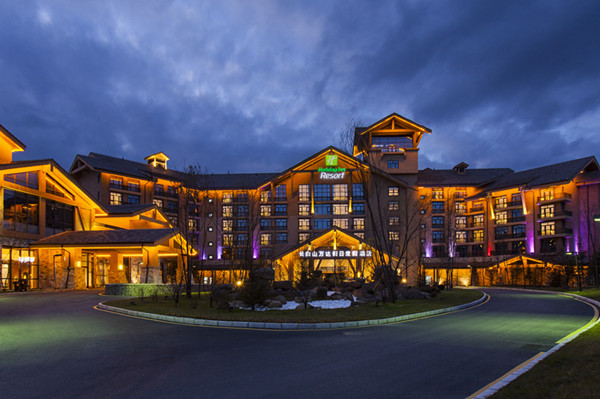 Holiday Inn Resort Changbaishan enjoys a prime location in the resort, and offers a comfortable and convenient place to stay for all guests vacationing in area. The resort's group of three-hotel features European-style wooden buildings as part of a multi-building complex inspired by Changbaishan's original ecological landscape.
Together, they offer 368 finely appointed, stylish guestrooms whose options to choose from include superior room, panorama room, deluxe room and suite deluxe. All rooms are spacious, multifunctional and uniquely private. They further feature cable television, a refrigerator, independent air-conditioner, comfortable work area and free high-speed broadband internet access.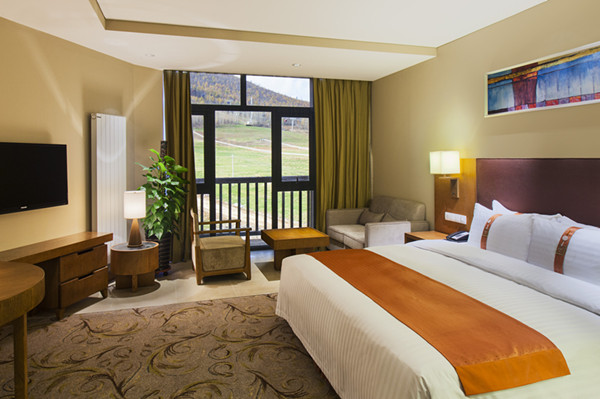 As the 60th hotel of the Holiday Inn brand in Greater China, Holiday Inn Resort Changbaishan adheres to the brand's international standard for providing guests with friendly, courteous service and first-class facilities.
The hotel well provides a range of pleasurable dining and leisure facilities and venues, among them24-hourJi Cafe restaurant, which blends modern design with nature-themed characteristics. The restaurant serves a wide variety of Changbai Mountain specialties and traditional Chinese delicacies, as well as a number of western favorites.
The featured bar, called Feng Bar to suite the hotel mountain area setting, offers a variety of exceptional wines and welcomes enjoy bar's open garden section, which offers wonderful views of the surrounding sceneries. When things cool off, the hotel's lobby bar, with is extra-large fireplace, makes for a warm, cozy place to gather with family and friends.
Other engaging leisure activities at the hotel include heading up to the spacious, common space balcony where you can peak though a telescope and look at the stars at night. For more those seeking more energetic activities, the heated indoor swimming pool will prove particularly inviting, as will the fully equipped fitness center. If you need pampering, the serene hotel spa welcomes you; and for the little ones, the kid's playhouse will be a total joy.
Holiday Inn Resort Changbaishan features a dedicated passageway that directly leads to the hotels' shared 1,900-square-meter (20,450 feet) conference venue. At the center of the venue is a 985-square-meter (10,280 feet) pillar-free banquet hall with 9-meter (30 feet) ceilings. There are additionally 7 multifunction halls of varying sizes. The overall conference venue is ideal for a wide range of business and celebratory events, including romantic weddings, making it the ideal choice for event planners.
Beyond your hotel, you can enjoy a number of activities at nearby recreational and sightseeing venues. The resort's Birch Golf Course, Commercial Town and Asia's largest ski resort are each within walking distance. What's more, together, the hotels are only 12 kilometers from Changbaishan Airport and 20 kilometers from Heaven Pool Western Scenic Area on Changbai Mountain.
Lastly, Resort Center at Hotel offers one-stop service for tourists looking to organize exciting things to do during their stay. Among these include skiing, hot spring, and golf, show performances, hiking and taking in the breath taking scenery of Heaven Pool— all of which will make your stay at Changbaishan International Resort a wonderful time to remember.
Hotel information: 
Tel::+86 (439) 6986 666
Address: Changbaishan International Resort, Fusong County
Toll Free:400 884 0888