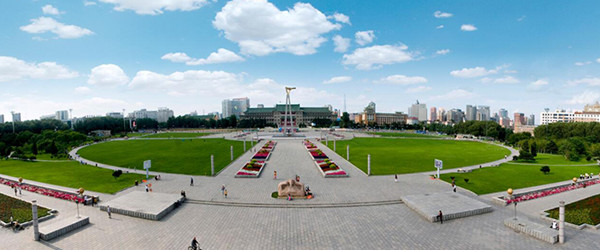 The Culture Square in Changchun, in Jilin province. [Photo/changchun.gov.cn]
As the capital of Northeast China's Jilin province, Changchun city is the political, economic and cultural center of Jilin. The city covers an area of 20,593.5 square kilometers (not including the city of Gongzhuling). It is adjacent to Songyuan city in the northwest, connected to Siping city in the southwest, adjacent to Jilin city in the southeast and bordered by Heilongjiang province in the northeast. The city administerss three county-level cities and seven districts, namely Yushu city, Nong'an county, Dehui city and Chaoyang district, Nanguan district, Kuancheng district, Erdao district, Lyuyuan district, Shuangyang district and Jiutai district.

It is well known for being an automobile city, a film city, a science and education city, a forested city and a city of sculptures. With its pillar industry of transportation equipment manufacturing, Changchun is currently building automobiles, processing agricultural products -- as well as being engaged in the science, education and cultural sectors. It is accelerating the development of 10 industries -- including auto and auto parts, food, electronics information, as well as the bioindustry and medicine sectors.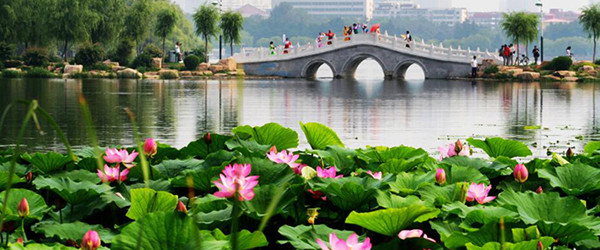 Lotus flowers are in bloom at Nanhu Park in Changchun. [Photo/changchun.gov.cn]
Changchun city is rich in land resources. The soil mainly comprises black soil, meadow soil, chernozem, etc. The soil is fertile and the thickness of the black soil layer is generally 0.6 meters to 1.0 meters. There are 265,000 hectares of forested land in the city, which also has more than 300 species of wild plants of economic value.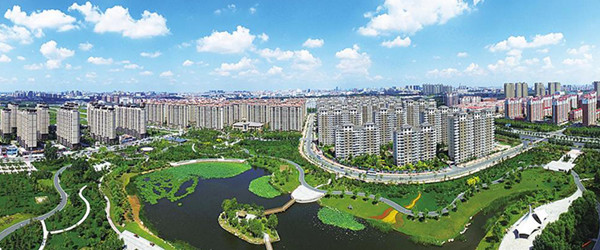 The Changchun New Area. [Photo/changchun.gov.cn]
At the end of 2020, the city was home to 7.54 million residents, of whom 328,000 were from 51 ethnic groups, including the Manchu, Hui, Korean, Xibe and Mongolian ethnic groups. Non-native citizens account for almost one thirds of the city.

Changchun's GDP has exceeded 650 billion yuan ($97.5 billion) in 2020, an increase of 3.5 percent compared with the previous year.
The city also boasts rich science, technology and education resources and is home to well-known universities including Jilin University and Northeast Normal University. It has 107 independent scientific research and technological development institutes, 98 scientific research and technology development institutes and 19 national key labs. It is also a national optoelectronic information industry base and a national biomedical industry base.