Songyuan is in mid-western Jilin province and has a population of 2.75 million, and administers one county, one county-level city, a district, and two development zones. It is known as a national granary, with its main crops being corn, soybeans, rice, sorghum, sunflower, peanuts, garlic and herbs. Its annual corn output is above 4-million tons. It has forest, meat and fish resources and many rivers and water resources. The Songhua River, which starts at Changbai Mountain is the biggest provincial river. It also contains Chagan Lake.
Chagan Lake
It has 20.91 billion cubic meters of natural gas and 15.1 billion tons of oil reserves and oil is a pillar industry. Its GDP grew to 16.50 billion in 2013 and its economic aggregate ranked third in Jilin province. It has many national and provincial roads, such as Hunchun-Ulanhot, Beijing-Harbin, and Changchun-Baicheng highways. The not-yet-completed Changchun-Harbin Expressway and Songyuan-Zhaoyuan Bridge will make Songyuan an important transport and logistic center for the cities of Harbin, Changchun and Shenyang.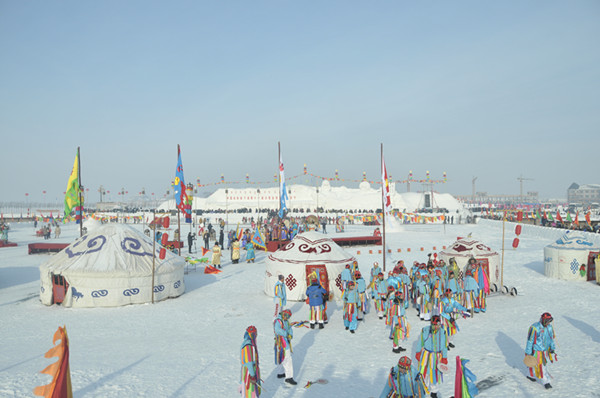 Winter fishing on Chagan Lake
The city recorded annual GDP of 174 billion yuan ($26.1 billion) in 2020.