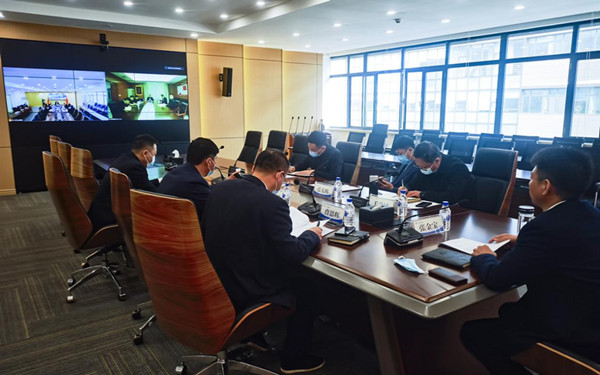 An investment conference is held, focusing on a proposed tourism complex project in Changbai Mountain. [Photo/Changbaishan Release]
An investment promotion conference was held on April 11 by the developers, focusing on a planned tourism center in the Chibei district of the Changbai Mountain Development Zone – located in Northeast China's Jilin province – according to press release.
The two companies participating were the Changbai Mountain Development and Construction Group and the Gansu Construction Investment Group. The president of the first company, Zhang Jinbao, gave a presentation to the conference – held via video link – detailing the location and resource advantages, development orientation and key construction information of the planned complex.
He said that with the construction of the Shenyang-Changbaishan High-speed Railway and the completion of the airport expansion, there was great potential and broad development prospects for Changbai Mountain.
Gansu Construction Investment Group executive Wang Zhong said that Changbai Mountain had obvious advantages in terms of its tourism resources and an excellent investment environment.
Moving forwards, it's expected the two companies will strengthen communications and exchanges, jointly refine the plans and fully promote the upgrading and development of Changbai Mountain's tourism sector.