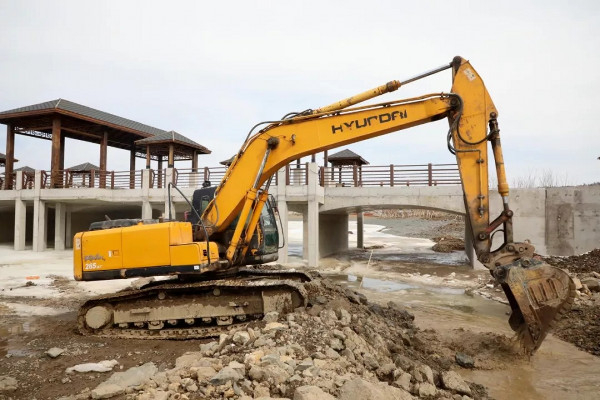 An excavator works on a project site in Chixi district, Changbai Mountain Protection and Development Zone, Northeast's China Jilin province. [Photo/changbaishan.gov.cn]
The management committee of Chixi district of the Changbai Mountain Protection and Development Zone has launched high-quality projects to benefit people's livelihoods and lay a solid foundation for the economic and social development of the region.
As the weather gets warmer, a number of projects in the district have started work. One of them is the "three diversions" project: diverting safe water for household use, diverting pollution-free water into the Huangni River, and diverting mineral water into the industrial park.
With a total investment of about 245 million yuan ($38.37 million) and a pipeline of about 23.5 kilometers, the project aims to quickly increase prosperity in the region, providing happy lives and a booming economy. Some 45 percent of the project is done and completion is expected for October this year.
After completion, people in every household in the district will have access to mineral water and potable water supply will be increased for nearly 20,000 residents in the district, meeting the area's long-term needs.
The water diversion to the river will amount to an annual quantity of more than 22 million cubic meters, which will promote environmental health in the Huangni River and the healthy and sustainable development of aquatic ecosystems in the river basin.
The concentrated start of the key projects will have a positive and far-reaching impact on further optimizing the industrial structure of Chixi district, and expand its industrial upgrading and total economic output.
Chixi aims to stimulate the vitality of various market entities and become a strong driving force for high-quality leap-forward development, making unremitting efforts to promote construction of key projects within its borders for positive effects throughout the region.