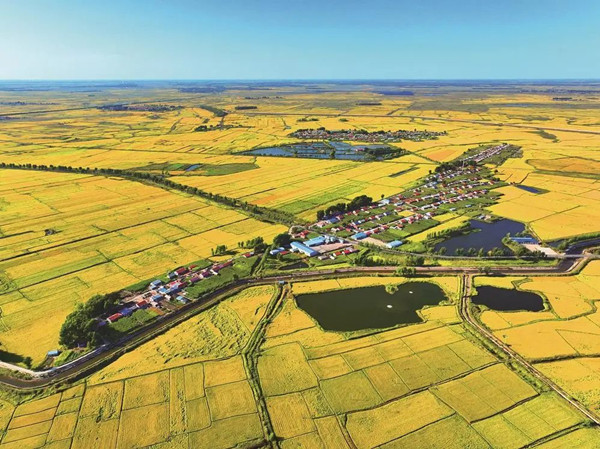 Grain production in Baicheng city in the province is on the rise. It's increased year after year. [Photo/Jilin Daily]
Northeast China's Jilin province is an important commercial grain production center in China and it continues to make significant contributions to its national food security, according to local media reports.
As a major grain-producing province, Jilin's annual grain output has exceeded 35 billion kilograms for nine consecutive years.
In 2021, grain output hit 40.39 billion kilograms, a year-on-year increase of 6.21 percent. The growth rate ranked first among the top 10 grain-producing provinces in the country and the total output ranked fifth in the country.
Last year, the province began the implementation of the 50-billion-kg grain production capacity improvement project. In 10 years, the annual grain output is expected to exceed 50 billion kg.
In order to further improve the standards and quality of its farmland development, Jilin is focusing on the layout of grain production functional areas and important agricultural product protection areas. It is carrying out land leveling and constructing more field roads, irrigation and drainage channels, river bank slopes protection and farmland power grids.
This year, 5.5 million mu (366,667 hectares) of premium farmland has been established in the province and a high-standard farmland demonstration area covering 300,000 mu has been established, with an average investment of about 3,500 yuan ($502) per mu.
At present, the coverage rate of improved varieties of major crops in the province is 100 percent, contributing 45 percent to the increase in annual grain production. Jilin has also developed seven enterprises that integrate crop breeding, reproduction and marketing, and established two national-level seeds industrial parks.