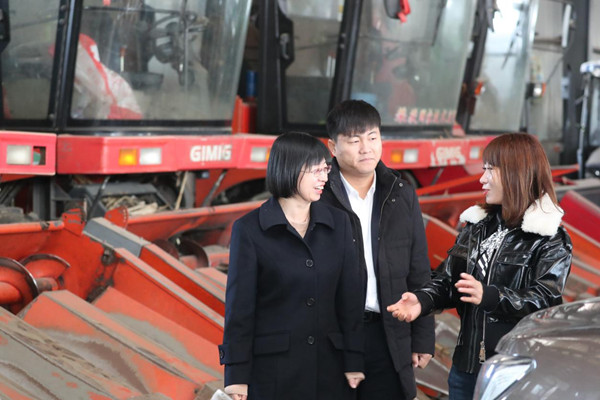 Staff members of the Lishu sub-branch of Postal Savings Bank learn about the financial needs of a cooperative in Lishu county, Jilin province. [Photo provided to gojilin.gov.cn]
The Lishu sub-branch of Postal Savings Bank has launched new financial products to facilitate the protection of black soil in Lishu county, Northeast China's Jilin province, by offering special guarantee loans, according to local media reports.
Jilin is rich in black soil – a type of highly fertile soil that takes hundreds of years to form a layer just one centimeter thick – and this has made the province China's most major grain-producing region.
To prevent the fertility of the black soil from being degraded and to maintain its productivity, the province has been undertaking conservation tillage, a form of tillage designed to minimize the use of plows and prevent the loss of topsoil.
Lishu county provides a strong example of this practice. After reducing the use of chemical fertilizers and covering fallow farmland with corn stalks to raise its productivity, the county has effectively countered agricultural degradation and conserved its soil resources.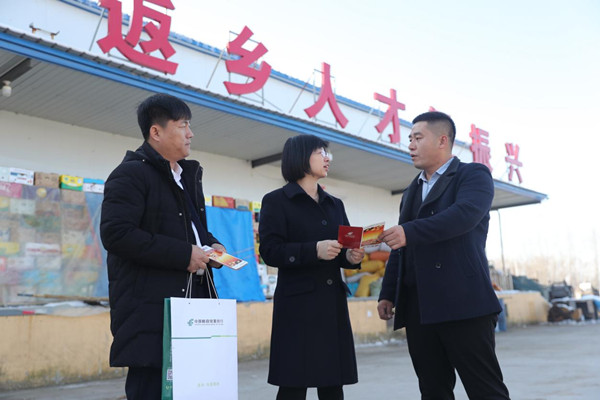 Bank staff members visit cooperatives and enterprises in Lishu county. [Photo provided to gojilin.gov.cn]
The Fenghuangshan Agricultural Machinery Farmers Professional Cooperative was established in March 2010 in Lishu county. At present, the cooperative has more than 1,200 hectares of farmland, of which 845 hectares are cultivated using the Lishu model.
In 2016, the cooperative took a loan of 1 million yuan ($156,600) from the Postal Savings Bank, which has since increased to the current 2.6 million yuan.
With the loans issued by the bank, the cooperative's land area has grown from some 200 hectares to more than 1,200 hectares currently.
The large-scale operation reduces costs, avoids credit sales, and reduces pressure on the staff members of the cooperative.