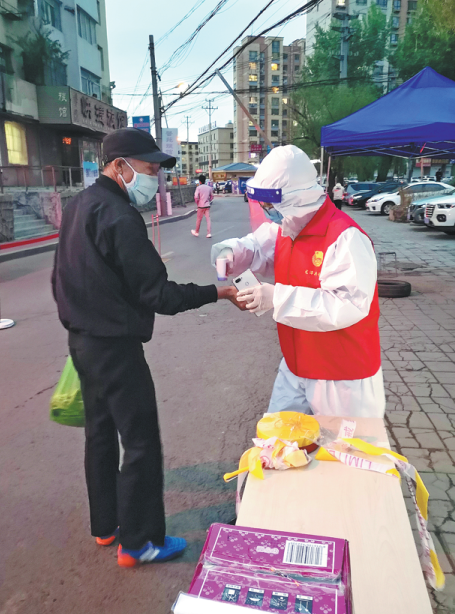 Zhan Jiayi takes part in COVID-19 epidemic prevention efforts in the Ji'an community in Jilin city, Jilin province. CHINA DAILY
When Zhan Jiayi started studying in September for a master's degree in auditing at the Guizhou University of Finance and Economics in Guiyang, Guizhou province, she thought about pursuing a PhD degree after graduation.
It was a thought that many people likely would have never imagined she'd have.
Zhan's story is one of triumph over adversity. Deaf since age 2, she has overcome myriad obstacles to succeed academically.
Born in 2000 in Jilin city, Jilin province, she grew up in a world of silence, having been diagnosed with severe sensorineural hearing loss.
"My parents took me to lots of hospitals in the province as well as some in Beijing, but all the doctors said that I would never hear another sound on my own again," she said. "With the doctors' recommendations, my parents took me to start rehabilitation with the help of a hearing aid."
Yet through perseverance, she excelled at school and university.
When she was old enough, Zhan was enrolled in a standard primary school rather than a special school, as was common for most children with disabilities.
"Because I couldn't hear clearly, I recorded the teacher's speech with a recording pen in the class," she said. "After school, my mother helped me review the lessons."
In 2018, she achieved an impressive score on the national college entrance exam and was admitted to Changchun University of Science and Technology in Changchun, Jilin's capital.
In the summer of 2017, she had an artificial cochlea (a device fitted to the hearing nerve) operation in Beijing, with which she could better understand people by reading their lips.
"At the beginning of my college studies, I had some difficulties without my mother's help, but my teachers and classmates have helped me immensely. They always spend their spare time answering my questions about the lessons and share the study materials with me without any reservations," Zhan said.
"Also, when my teachers learned that the high cost of my operation had put a heavy burden on my family, they helped me apply for subsidies," she said. "I always told myself that the best way to repay them is for me to study hard and do something good for society."
In college, she accumulated several awards and scholarships and participated in public welfare activities.
In May 2020, for example, she took part in COVID-19 epidemic prevention efforts in the Ji'an community in Jilin city.
"Since I couldn't return to campus, I had more free time after finishing my online courses, so I decided to do volunteer work," she said. "Because I had some trouble communicating with others when they were wearing masks, I was given the task of disinfecting residential buildings and assisting other volunteers."
Last year, Zhan received the Self-improvement Star. The honor, which is jointly awarded by several departments including the Central Committee of the Communist Youth League of China and the All-China Students' Federation, recognizes Chinese college students who exhibit the cultural spirit of relentlessly striving to better themselves.
"I'm always grateful for the respect I have received from my parents, teachers and friends. They never gave me special attention for my 'imperfection', which means I've never seen myself as different from anyone else," Zhan said.
"I will continue my studies and pursue a PhD degree after graduation," she added. "In the future, I hope to get a job that involves helping the disabled, such as working for the Disabled Persons' Federation, so that I can help more people like me."
Zhang Siyu contributed to this story.