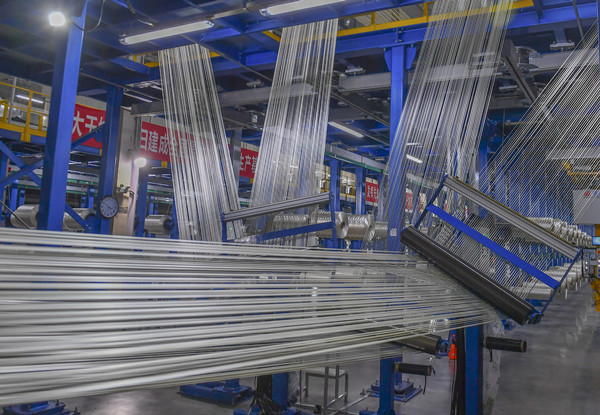 A carbon fiber production line swings into action in a plant operated by Jilin Chemical Fiber Group Co. [Photo provided to gojilin.gov.cn]
Relying on the strong industrial foundation, Jilin city in Northeast China's Jilin province is vigorously developing its carbon fiber industry and striving to develop itself into "China Carbon Valley", according to local media reports.
Over the past few years, the city's carbon fiber industry has grown rapidly, providing new support for the growth of strategic emerging industries and the accelerated transformation and upgrading of traditional manufacturing industries.
Under the province's development plan, Jilin city is expected to pursue breakthroughs in its bid to transform itself into a chemicals city focusing on new materials.
According to the blueprint, the city will accelerate the construction of key projects such as Jilin Chemical Fiber's ethylene transformation and other projects that upgrade the entire industrial supply chain.
Jilin Chemical Fiber Group Co, based in Jilin city, has successively developed a large number of new products such as flat fibers that can replace animal fur, colored fibers that can eliminate the dyeing and finishing process, and regenerated acrylic fibers that can realize resource recycling. It has become a national R&D and production base for differentiated acrylic fibers.
In the first eight months of this year, the company's output value was 11.1 billion yuan ($1.55 billion), and the sales revenue was 14.12 billion yuan, an increase of more than 35 percent year-on-year.
It is estimated that this year, the carbon fiber raw silk production capacity in Jilin city will reach 160,000 metric tons, the carbon fiber production capacity will reach 45,000 tons, and the composite material and product production capacity will reach 15,000 tons.