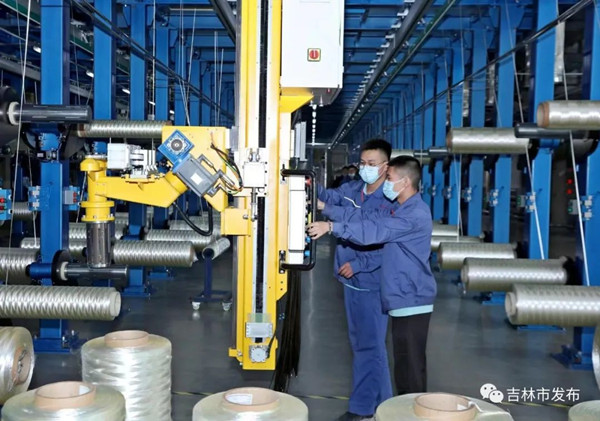 A production line swings into action at Jilin Chemical Fiber Group, which is expanding its manufacturing capacity. [Photo/Jilin City Release]
The industrial economy of Jilin city – in Northeast China's Jilin province – is in fine shape after it recorded a sound performance last year, with large-scale industries achieving an output value of 172.3 billion yuan ($24.96 billion), up 24 percent on the previous year, according to local media reports.
During the year, the added value of the city's large-scale industries increased by 5.3 percent.
On multiple fronts, industry in the city is on course to expand output.
One example is that on August 18, two raw silk production lines in the first phase of Jilin Chemical Fiber Group Co's planned 150,000-metric-ton raw silk plant started up – as the company expands its existing manufacturing capacity. The business is a chemical fiber products manufacturer with a division that produces raw silk.
This production line is a domestically engineered carbon fiber precursor output unit, independently developed by the company, with an annual output of more than 10,000 tons of raw silk per production line.
Construction work began in April 2021 and plans are for a total of 12 raw silk production lines to be built. Products using the company's raw silk output include sports and leisure goods and other retail fields.
By the end of this year, Jilin Chemical Fiber's annual raw silk production capacity will reach 160,000 tons, its carbon fiber production capacity will reach 49,000 tons and its composite material production capacity will reach 15,000 tons.
As a result, the company expects to become the largest carbon fiber production enterprise with the most complete range of brands and the most complete industrial supply chain in China.
This year, Jilin city has introduced 50 measures to bolster its economy. Policy support for helping industry has been extended, including promoting the stable and full production of manufacturers and boosting services for 50 key enterprises.