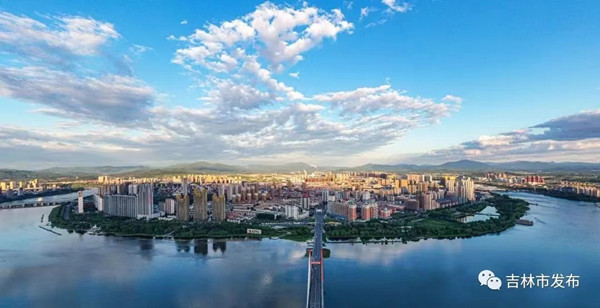 Jilin city in Jilin province [Photo/Jilin City Release]
Jilin city in Northeast China's Jilin province reported steady growth in its foreign trade sector, with the import and export volume showing a year-on-year growth of 8.7 percent in the first half of 2022, according to local media reports.
During the period, the import and export volume of key foreign trade enterprises showed rapid growth.
Among them, the import and export volume of Jilin Jianlong Iron and Steel Co, Jilin Chemical Fiber Group, Jilin Carbon Import and Export Co, and Jilin Huawei Electronics Co increased by 56 percent, 25 percent, 10 percent, and 7 percent year-on-year respectively.
Since May, the municipal bureau of commerce has helped key foreign trade enterprises based in the city solve practical difficulties in production, logistics, and COVID-19 epidemic prevention and control in a timely manner by improving relevant working mechanisms, effectively stabilizing the supply chain and sales chain of these enterprises.
In the "Enterprise Service Month", the commerce bureau sent staff members to relevant enterprises to implement foreign trade policies and business training, and organized these enterprises to participate in online bank-enterprise cooperation, logistics matching and other activities.