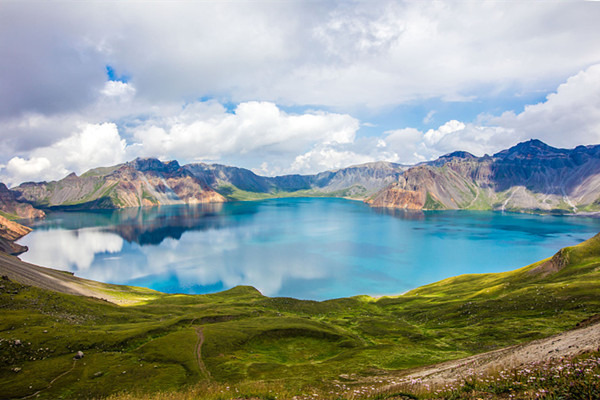 Changbai Mountain Protection and Development Zone
Changbai Mountain Protection and Development Zone started as a provincial Changbai Mountain Protection and Development Committee, on June 29, 2005, and then became the Changbai Mountain Protection and Development Zone in January of the following year to oversee the mountain's nature reserve and develop eco-tourism in line with the central government's unified planning, management, and development ideas.

It administers a 3,478.78-square–kilometer area in southeastern Jilin province, with three districts and a population of 61,800. It is rich in natural resources and has a good ecology and environment.
Its sustainable development approach in recent years has featured Korean culture and the mountain's ecosystem. Thanks to this, it attracted 1.57 million tourists brining in revenues of 449.53 million ($69.41 million) in 2013.
Changbai Mountain Scenic Area
The Changbai Mountain Scenic Area is a national 5A scenic area, a member of the United Nations Educational Scientific Cultural Organization (UNESCO) Man and Biosphere Reserve Program (MAB), an international A-level nature reserve, a state-level nature reserve and one of the 10 most famous mountains in China.
It is located in the southeast of Jinlin province at the border of China and the Democratic People's Republic of Korea. The main peak is 2,691 meters high in altitude, the highest peak in Northeast China.
The Changbai Mountain is the most complete natural complex preserved in the world. It is a typical example of the mountain-forest ecological system in the north of Eurasia, and has best-preserved natural conditions and the most biological diversity in the same latitudinal zone.
It is also one of the three active volcanic clusters in modern China. Its last eruption was more than 300 years ago in 1702. It is a dormant volcano.
There are rich natural resources in the Changbai Mountain, including 2,596 kinds of wild plants and 2,442 kinds of wild animals, of which more than 50 kinds are first or second level protection animals of the country. The Changbai Mountain is the hometown of Manchurian tiger, king of animals.
"Three treasures of the Northeast" -- ginseng, marten fur and pilos deer horn -- are originated here. It is also the headstream of the Songhua River, Tumen River and Yalu River.
At different altitudes, the Changbai Mountain gives different colors in the four seasons of the year. There are 49 main scenic spots, including the Tianchi Lake, the cascade, the hot spring, the grand valley, the glacier sites, underground primitive forests, alpine garden, vertical plant scenic belt, the round pond, the valley pumice forest, the Changbai Scotch Pine and Wangtian'e.